First Appearance
Manga Debut
Volume 1, Chapter 0
Anime Debut
Season 1, Episode 1: Disband the Club!
Other Appearances
Videogames
K-ON!! Ho-Kago Live!
Stages
K-ON!! Let's Go! Live
Movies
K-ON! Movie
Voice Provider
Japanese
Yōko Hikasa
English
Cristina Valenzuela
Korean
So Ra Park
German
Anita Hopt
Chinese
Qian Xin You
Profile
Also Known As
Mio-chan


Mio-senpai

Age
15-18
Birthday
January 15, 1992
Class
Elementary School


4-1
Senior High School
1-2
2-1
3-2

Musical Profile
Role
Bassist


Backup Vocalist
Main Lyric Composer

Instrument
Bass Guitar


Fender Japan '62 Reissue Jazz Bass in 3-Tone Sunburst (Left-Handed); named "Elizabeth"

Manga only: Fender Precision Bass in 3-Tone Sunburst (Left-Handed)

Characteristics
Gender
Female
Height
160 cm
Weight
54 kg
Hair
Black (Mio Akiyama) Yellow (Cure Bass)
Eyes
Grey (Mio Akiyama) Dark Yellow (Cure Bass)
Blood Type
A
Alter Ego
Cure Bass
Theme Color
Yellow
Transformation Item
Instument Pad
Transformation Phrase
Instrument Pad... Let Me Transform!
Weapon
Bass
Mio Akiyama ( ) is the mature but scaredy-cat bassist, and second vocalist of the band Ho-kago Tea Time.
Her voice providers are Yōko Hikasa (Japanese) and Cristina Valenzuela (English).
CharacterEdit
Edit
Mio is the bass player of the Light Music Club. Even though she acts mature, calm and collected most of the time, she freaks out from things she's afraid of, are gross, or pertain to gore. She is atsundere towards Ritsu often, due to Ritsu's immaturity. Because of her extreme shyness, she chose the bass over the more conspicuous guitar. She is so delicate that merely imagining herself being the center of attention almost makes her faint, but she still plays the bass quite well. She is kind and warm with others, caring about her friends and knowing they are important to her.
Although she is not altogether uninterested in joining a band outside school, the time she spends with the Light Music Club members is the time she enjoys the most, so she has completely devoted herself to the club, and during the school festival performance in the fall of her first high school year, she acted as lead vocalist instead of Yui, who had lost her voice. At the time it seemed like Mio might have overcome her stage fright, but after the performance ended, she tripped over a cord and fell, exposing her panties, and was traumatized anew.
AppearanceEdit
Edit
Mio stands at 5'3", being the tallest in the group and has straight, long, black hair and gray-blue eyes. As shown in episode 4 of season 1, she is also quite a bit more busty than the others (except Mugi), much to Yui and Ritsu's dismay, and later Azusa's as well.
Attires Edit Edit
Pants over skirts. In summertime, she likes to wear sleeveless clothes, such as tank tops.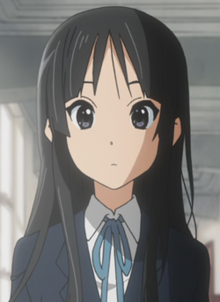 Ad blocker interference detected!
Wikia is a free-to-use site that makes money from advertising. We have a modified experience for viewers using ad blockers

Wikia is not accessible if you've made further modifications. Remove the custom ad blocker rule(s) and the page will load as expected.